Joining the fray in picking my "Top 10 Albums of 2004" became a much easier task when I discovered that I only had ten albums in my collection that fit the onerous criteria of having actually been released in 2004. Apparently, I've been so busy catching up on albums I missed in my squandered youth that I've completely abandoned new music.
Sure, I could have included albums I don't actually own in my list, but if I don't own them, I don't know them well enough to say a damn thing about them. (Heck, I don't know enough about some of the ones I
do
own to say a damn thing about them.) And I could have ignored the proscribed criteria and come up with some of my own, like "Top 10 Albums I Translated into French in 2004" or "Top 10 Albums of My 2004 Red Sox Soundtrack," but I'm a sucker for tradition.
So, here goes. My "Top 10 Albums of 2004," more affectionately known as "The Only Blasted 2004 Albums I Own." And, yes, they are in order of "musical excellence," which roughly translates to "ability to please Sarah in sundry and utterly random ways."
1. 50 Foot Wave – S/T
For those who know me, this is a supremely obvious pick. Well, I'm sorry. But I don't have it in my blood to put anybody above
Kristin Hersh
. Call it
Ocean State
prejudice. Call it irrational love. I don't care. This six song masterful debut rocks from the opening wrenching guitar chords of "Bug" to the reverb closing of "Dog Days." Come on, the opening lyrics to "Clara Bow" are "I didn't use you/but I wish I had/I never liked you/but I wish I did" and Hersh's bitching about "another stupid summer" is part of a perfectly jerky chorus that keeps you off balance and entranced. And if there's a better song than "Long Painting" to shriek along to while bobbing your head and jumping up and down, well, I haven't heard it yet. Plus, Hersh, Rob Ahlers, and Bernard Georges cater to the people. Their show in April at
First Ave.
was all about the music; Hersh barely said hello. No unnecessary banter, no breaks between tunes, just straight punk rock for the kids. The
Catholic Church
just might regain my respect if they ever canonize this woman. [That's a joke, y'all, the respect is gone forever.]
2. The Butchies –

Make Yr Life
So, given my KH bias, you can consider the Butchies' fourth album to actually be my number one selection for 2004. I have a ridiculous amount of memories associated with this band – and this album in particular – and I was only introduced to them in April of this year. They played in DC the night before the
March for Choice
– a show I kick myself daily for not attending. After the March, I returned to Minneapolis and was invited to their upcoming May 9th show at the
Dinkytowner Cafe
while I was in the process of buying
50 Foot Wave concert tickets. Clearly, it was destiny. Of course, they rocked that little Mpls venue to death, complete with
Howard the Duck
/Melissa York antics and Kaia looking all hot and stuff. I bought Make Yr Life (and
a very spiffy pin
) that very night and never looked back.
Oh, but there's an album to discuss too. Does anyone do pop rock better than the Butchies? "Send Me You" could stand as the quintessential missing-my-lover/ wanna-be-with-her/ him-all-the-time love song. And I could listen to the verse that happens right around the 1:00 mark of "Second Guess" over and over: "...but you're not like the rest/you're not the fucking rest/you're not like anything/ i've ever seen..." God, and what happens at the 2:00 mark is even better. Trust me. "She's so Lovely" is another superb devotional ditty that makes you really not want to believe Kaia when she sings "Grab my hand baby/I
just
wanna talk..." [Emphasis mine.] Oh, but wait, she wouldn't be "talking" with you anyway. "Everything + Everywhere" is blatant and beauteous flirtation and their cover of the Outfield's "Your Love" is perfect in its whispered slowness. When are they coming to DC again?
3. Rufus Wainwright –

Want Two
One of the few men who will appear on this list, Rufus Wainwright quite frankly just makes me happy. I know a few Rufus fans who have grown bored or disillusioned with his recent output, but I'm continuously impressed and pleased. I could fall asleep to the gorgeous "Agnus Dei" every night (which, perhaps, isn't the best recommendation for a song) and then wake up to "The One You Love" every morning: "I'm singing 'Oh, Jerusalem oh, Jerusalem/See what he's picked up in the park'/Let's fuck this awful art party/Want you to make love to me and only to me in the dark." While I can't decide if "Peach Trees" is pretty or boring, and if "Little Sister" is a cute or ridiculous tribute, "The Art Teacher" and "This Love Affair" are two amazingly beautiful songs. While most critics probably harp on the meaning of "Gay Messiah," I prefer to just sit back and smile at it. "Old Whore's Diet" completely blows me away and is a perfectly epic, crescendo-to-diminuendo way to end Rufus' fourth oeuvre. [Pardon the use of the word "oeuvre," but you know it fits Rufus and what he does.] And if the album wasn't satisfying enough, there's a full-length concert DVD included that is also, oh, wonderful.
4. The Soviettes –

LP II
I don't know much about the
Soviettes' punkstory
– they're another recent addition to my musical collection. But I do know that this Minnesota group provides super fun shows and sing-able, dynamic songs on their albums, particularly on LP II. The call-and-response gimmick works to perfection in "Pass the Flashlight." "Goes Down Easy" is a tune many drinkers will understand. The opening bars of "Angel A" are painfully naked, but work well with the song's tale of disappointment. "There's a Banana in My Ear" earns them a "liberal rocker" gold star. Ditto for "Winning is for Losers." "Love Song" is too awesome to explain. I have no idea what the hell "Come on Bokkie" is about, but it works. At an average of a little over 100 seconds a track, these 14 songs bring quick and hard pleasure.
5. The Reputation – To Force a Fate
As
mentioned previously
, Elizabeth Elmore is well on her way to solidifying herself as a younger, childless, and less guttural Kristin Hersh. Less guttural, but her songs certainly have the same bitter,
"Tar Kissers"
element to them. Take, for instance, the awesomely fun "Bottle Rocket Battles": "it was once before you noticed and twice before i cared/three times and we'd both had it for the year." And "Face It" is a great song directed at plenty of people I know, especially in DC: "go join the neophytes and haunts/philistines and dilettantes/the new Elmer Gantrys in one feverish race to the bottom/it's what you wanted/ it's what we're all doing here." I love "Senseless Day," if only for the talk about burying everything in sleep. Sounds like my ideal world. But my favorite track is "The Ugliness Kicking Around" because it's another one of those epic, unnecessarily long-and-drawn-out songs that always seem to appeal to me. [After letting a friend borrow
kd lang
's Ingenue album, she accused me of liking "overly dramatic" music. Rufus and
Mandy Patinkin
... yeah, guilty as charged.] To Force a Fate has been firmly integrated into my regular CD playlist.
6. Le Tigre –

This Island
Given a longer period of ownership, it's possible that this album could have earned a higher spot on my list. But, I don't know it very well yet, so it'll have to rest easy at #6. I enjoy fun albums that you don't need to pay attention to – this is certainly one of them. You can focus in on the lyrics if you want, but it's definitely not necessary. "Seconds" is one of the many anti-tributes to G.W. Bushies to have come out in the past four years, and it's probably one of the more caustic ones: "Your dad's money's too base to mention/His coattails are looking worn/You've had a nice ride that's for sure/Better thank your brain-dead clientele/For all the money that you'll spend in hell/You make me sick." Other highlights: a brash "Nanny Nanny Boo Boo," the spacey "T.K.O." and the hysterical butch anthem "Viz." I'll agree with the Washington Post critic who said that the political collage "New Kicks" was unnecessary. Oh yeah, and did I mention the irresistible cover of the Pointer Sisters' "I'm So Excited"? That song alone is worth the price of the album. Lucky for us, there are 12 other tracks.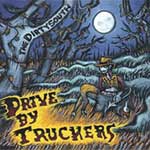 7. Drive-By Truckers –

The Dirty South
I've seen 7 out of the 10 bands on this list live. In terms of putting on the best overall live show, Drive-By Truckers lapped every single one of them – a couple times over. [Yes, they were even better than 50 Foot Wave. As far as being meaningful and all that crap, the L'~ show wins hands down, but DBT's 3-plus hours of near non-stop
quality
performing were something I've never before witnessed.] I bought The Dirty South because I felt I owed the band more than the price I paid for the concert ticket, and I was curious if I could get into a country-ish record. Well, the experiment kind of worked. I genuinely like the album. I'm just never in the mood to listen to it. Patterson Hood's
"Puttin' People on the Moon"
is a ridiculously awesome song. Mike Cooley's a genius, evidenced by
"Daddy's Cup,"
among others. I could do without most of Jason Isbell's tracks –
"Danko/Manuel"
is an exception,
"Never Gonna Change"
is certainly not. I guess I'm glad I own the album, but my ears would never know it.
8. Dropkick Murphys –

Tessie
The
Red Sox
won the World Series. The Red Sox won the World Series. The Red Sox won the World Series. The Red Sox won the World Series.
"Don't blame us if we ever doubt you/You know we couldn't live without you/Boston you are the only only only..."
9. Ellis –

Evidence of Joy
Ellis, much like Rufus, knows how to make a gal happy. Seeing her live and witnessing her self-conscious stage presence, goofy laughter, adorable telling of anecdotes, and sweet voice is an experience I hope to have again some day. But, after receiving my personally autographed, pre-ordered copy of Evidence of Joy, I'm not sure those things come across so well on a live album. [Or maybe they don't always come across well in person either; an audience member does tell her - and I'm paraphrasing here - to "shut up already and just sing."] The songs are of usual Ellis quality (interpret as you will), but when interspersed with her banter and laughter and audience noise, her act is less charming and music less enjoyable. Still, I love her and there are some great songs on the album. Among them, a reprise of Bobby Llama's
"Angel,"
a sincere
"Lovesong,"
and a fine rendition of
"Sacred,"
a song that really never fails.
"I've Gotta Thing for You"
is a new and experimental tune that is hysterical – but only the first couple times you hear it. Surprisingly,even after those first couple times it still stands up as a high quality track. But, if I want to reminisce about my Minnesota days, I'm definitely more likely to pop in Ellis' earlier
Soft Day
or
Tigers Above, Tigers Below
than
Evidence
.
10. Go Betty Go –

Worst Enemy (EP)
Pretty basic punk by four talented womyn. Not overwhelming, but worth listening to every now and then. Especially the last track, "C'mon." Hopefully, they'll figure out a way to distinguish themselves from similar groups (like the Soviettes have expertly done) by the time they make a full-length.
Resolution #1 for 2005
: When I go to buy new music, actually buy
new
music.
No, strike that.
The past year has seen me add an amazing number of "new" bands and a fair number of oldy-but-oh-so-goody albums to my collection. (Five must-haves by the Pixies being pretty good examples of what I mean). So, if I end up with a similarly lame Top 10 list next year, it'll only be because I was too busy continuing my musical late blooming to investigate what those modern kids are up to.
[P.S. Does the trade mean 2005 will not see Pedro and Manny featured on a Mighty Mighty Bosstones album? At least we still have V-Tek around to sing with Aerosmith...]